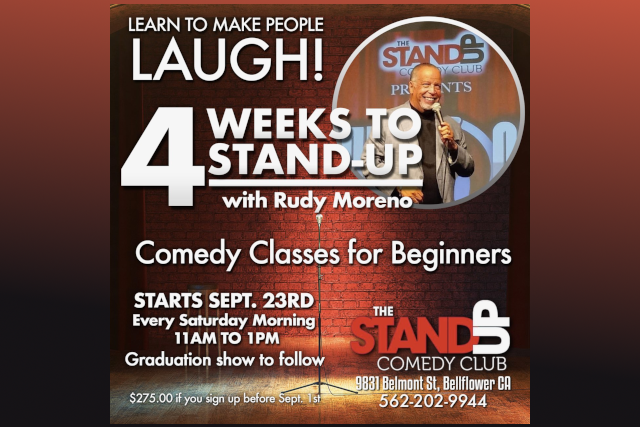 Comedy Classes for Beginners
Sat
Sep 23 @
Show: 11:00 AM
21 and up
🤩 IT'S TIME TO GET SERIOUS ABOUT COMEDY!
Whether you're a seasoned pro or just getting started, Rudy Moreno's comedy class is the perfect way to fine-tune your skills and learn from the best. Taught by a national headliner with over 40 tv appearances, Rudy covers everything from finding your voice to different styles of comedy and even the dos and don'ts of comedy.
You'll also get valuable insight into inspiration versus imitation and the benefits of working clean. Stealing material and running the light are two big no-nos in the world of stand-up, so we'll be sure to cover those topics as well.
By the end of this 4-week course, you'll have all the tools you need to start your comedy career off on the right foot!
So whether you're looking to take your act to the next level or just want to brush up on your skills, Rudy Moreno's comedy class is the perfect way to do it.
Sign up today, and let's get started!

CLASS DATES
Day 1: September 23
Day 2: September 30
Day 3: October 7
Day 4: October 14
YOU'LL COVER ALL THE ESSENTIALS OF BEING A TOP-NOTCH COMEDIAN
👉 Finding Your Voice: Different styles of comedy, Inspiration vs. imitation, Benefits of working clean, The Do's and Dont's of Comedy, Stealing material, Running the light
👉 Formulas for Writing a Joke: Premise, Set up, Punchline Tags, Callbacks, Closing joke, Same premises
👉 The Mechanics of Stage Presence: Removing the mic, Standing on stage, Playing with mic cord, Drinking on stage, Being sober on stage, Punctuality, Being presentable
👉 Show Business: Clubs, Corporate gigs, Bar gigs, Open mics, Submissions and auditions
👉 Marketing Your Talent: Managers and agents, Promoters, Headshots, Building your resume
👉 Killing It On Stage: Building confidence, Being conversational, Reading your audience
RUDY MORENO TEACHER BIO
Rudy Moreno is a legendary Latino comedian who has headlined all across the United States for over 30 years. His work has taken him to Mexico, Japan, Korea, and all across the US. Rudy started teaching comedy classes in 2012 and now has well over 2000 alumni.
Rudy's network appearances include HBO, Showtime, Comedy Central, STARZ, ABC, NBC, and CBS. He's also appeared on Galavision and in movies like Father Stu, Gray Matter, and White Oleander. Moreno has won numerous awards, including Latino Comic of the Year and Ice House Latino Search Winner.
---
Artists
---
---